Primary tabs
The castle was probably occupied by only one Provenchères heir and then by farmers till the end of mid twentieth century. The farm house, built with stones of the castle was abandoned by that time too.
Difficult beginnings
When at the beginning of 1990's Mr. de Provenchères engages the first restorations, it has been so two hundred years since the castle had been turning into ruins. As wee see on the photo which already dates from the end of 1970's, the vegetation completely invaded the ruins of the old monument.
The president of an association of restoration of medieval castles was interested in the site at the beginning of th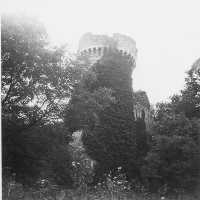 e eighties, but made nothing concrete to protect the ruins. What made lose ten supplementary years to the program of restoration which the previous owner want to lead. So, having been obliged to chase away the famous association by justice , the "feudal lord" of then could began the work.
A huge program
  It is nothing to say when seeing the photographes of these times that the amont of the works of restoration was going to be disproportionated ! On the left, one perceives a corner of the wall of the former barn. Far off, the main building on the left of the donjon and always one luxuriant vegetation in spite of the recent clearings...
Let us notice that we can greet the builders of this work which crossed the centuries and which always impresses us thanks to its majesty! In the year 2001, we can still say that with money and a lot of willingness it's possible to give back to the site an unmistakable prestige.
The Donjon
One of the major
part of the castle of La Faye which impresses all the walkers coming through the forested road which leads them there, is no doubtlessly this donjon which climbs several dozens metres high .
To be continued...
English